Home
> Infrastructure Management Services (IMS)
Workplace Support
To keep apace of the modern technology trends, such as cloud computing and Bring Your Own Device (BYOD), there is a need to establish smarter and more collaborative workplace for the NextGen workforce.
PCS offers agile and end-to-end workplace support to help you integrate your workplace with your IT technology strategy. We enable your workforce to deliver high-quality business results, by monitoring, standardizing and optimizing your services for reduced costs and enhanced efficiencies.
Through a user-oriented approach in our workplace support services, we focus on enabling efficient task management and problem solving with respect to the organizational environment.
Our workplace support services ensure that technology is a highly available and uninterrupted background tool that supports your workforce continuously. You can therefore concentrate on consistently creating unmatched business value for your customers, ensuring customer delight.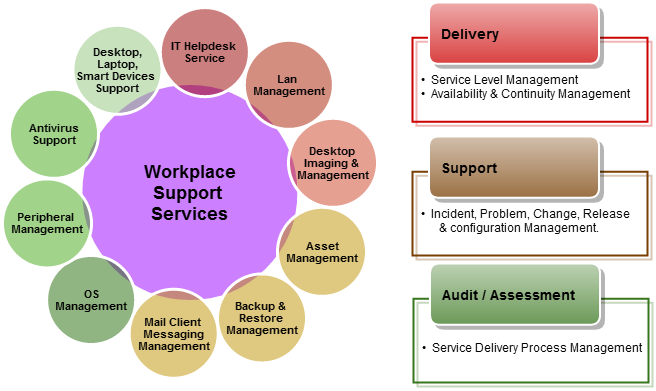 PCS Workplace Support Services & Service Management Process
The PCS Advantage
Agile, Integrated, Comprehensive Workplace Support
User-Oriented Approach for Prompt Resolution of Issues
Reduced Costs, Enhanced Efficiency
Copyright © 2018 PCS Technology Ltd. All Rights Reserved.
TOP