Company Overview
Established in 1983, PCS is a celebrated Indian IT solutions provider, delivering cutting-edge and innovative solutions that are tailored for your business objectives. With a global presence in over 20 Offices, 30 Service Centers along with 200+ direct point of presence across India, we help you enhance business performance by leveraging proven processes and technology solutions.
Creating Business Value
PCS has decades of experience in delivering unparalleled customer delight through a distinctive business model. Our model functions on :
Unique Pro-Customer Approach



Our client engagement transcends beyond business associations. We consider our clients as our partners, and offer flexible engagement models to create maximum value. Our teams work with you to understand your business goals and requirements, to help you cost-effectively streamline your operational efficiency and productivity, and achieve competitive edge.

At PCS, customer satisfaction is of utmost importance. Leveraging our culture of thought leadership and constructive ideation, we explore unique and novel solutions to ensure we exceed your expectations. A testimony to this is our wide clientele of prestigious Blue-chip and Fortune 500 companies.

Global Partnerships for NextGen Solutions



We believe that two is better than one. This is why we establish long-lasting partnerships with the leaders in the field of technology to keep abreast of the evolving market dynamics and global trends.

Through symbiotic relationships, we ensure that our products and services are cutting-edge, aligned for the next generation market. We understand your challenges and work with you to deliver cost-effective and pragmatic solutions that meet not only your current requirements, but also your future objectives.

Quality Excellence



We believe in achieving highest quality in all our operations and functions. To ensure superior quality in every parameter of our deliverables, we ensure that our business models surpass and create new global industry benchmarks.

Our processes comply with international best practices such as ITIL (Information Technology Infrastructure Library). In addition, our operations have been ISO certified for excellence in quality, services and security:


ISO 20000-1 : IT Service Management - IT Service Division (PCS Infotech Limited)
ISO 27001 : Information Security - IT Service Division (PCS Infotech Limited)
ISO 9001:2008 : Quality Management Systems - IT Service Division (PCS Infotech Limited)




Our Key Strengths




Global presence
Over 3 decades of experience in delivering business-critical, customized, cost-effective solutions
IT expertise across domains – BFSI, Manufacturing, Media, Retail, Healthcare, Energy, Transportation, etc.
Wide spectrum of service areas
Expert talent pool of professional and experienced engineers
Unmatched Services - ISO 20000-1 Certified - IT Service Division (PCS Infotech Limited)
Robust Information Security – ISO 27001 Certified - IT Service Division (PCS Infotech Limited)
Excellence in Quality – ISO 9001:2008 Certified - IT Service Division (PCS Infotech Limited)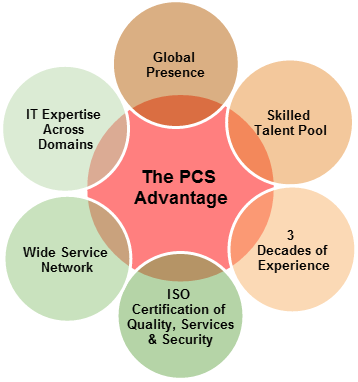 Copyright © 2018 PCS Technology Ltd. All Rights Reserved.
TOP