Vision & Values
NextGen PCS
We envision becoming a global leader in delivering NextGen IT services and solutions. Leveraging technology and domain expertise, we aspire to adapt and respond swiftly in the evolving landscape and bring about radical transformations across domains, thereby delivering unmatched value to our clients.
Key Mantras for NextGen PCS
Drive Customer & Employee Delight

We believe that customer and employee delight is the key to our growth. We endeavor to exceed expectations of our customers and employees through an employee-driven, client-centric approach.

Set Quality Benchmarks

We constantly strive to raise the standards and achieve quality excellence in the delivery of globally competitive services and solutions.

Learn, Acquire, Grow

With a strong commitment to ongoing learning, we keep abreast of the latest developments in the technology landscape and drive continuous improvement of our Products, Processes and People.

Augment Competencies

Augmenting our core competencies and building new competencies to cater to the new age requirements of our clients is our primary focus.

Together, We Can Achieve

We believe in collaborative teamwork, and work in synergy towards the common goal of fostering innovation and maximizing value creation.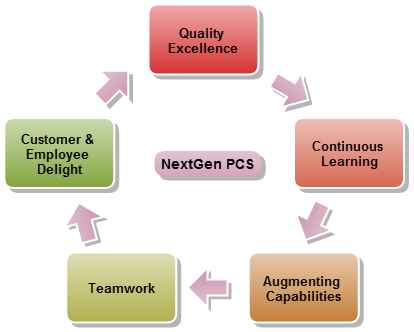 Copyright © 2018 PCS Technology Ltd. All Rights Reserved.
TOP