Home
> Infrastructure Management Services (IMS)
Roll Out & One Time Solutions (ROOT)
To ensure the deployment of infrastructure technology within the specified resources, a strategic technology partner is crucial.
PCS is the technology leader in Roll Out & One-Time (ROOT) Solutions, deploying multi-site, multi-service and multi-technology rollouts for retail, BFSI, Telecom and various other commercial as well as government organizations.
We leverage proven processes and methodologies, and the expertise of our onsite technicians to rollout infrastructure technology on a nationwide scale. From quick and accurate knowledge transfer, to successful installation and support, we provide end-to-end ROOT services.
ROOT Services Approach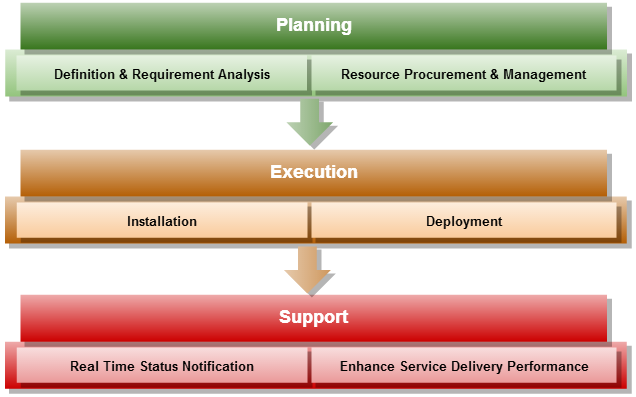 PCS ROOT Service Methodology
We have a professional and dedicated ROOT Services team, ensuring seamless coordination of myriad functions, from needs analysis and planning to pilot and execution. We ensure that all the contract and project requirements are met, by using structured approach and rapid deployment timeframes.
Our team provides support even after deployment of the rollouts, employing well-defined processes for high-quality project performance.
The PCS Advantage
100% Customer Satisfaction
PCS ROOT Services Team – Single-Source for Multi-Site, Multi-Service, Multi-Technology Rollouts
Reduced Costs, Accelerated Project Deployment
Flexible & Scalable, Nationwide Rollouts
On-Time, On-Budget Delivery Every Time
Real-Time Status Reporting
In-Process Quality Control
Copyright © 2018 PCS Technology Ltd. All Rights Reserved.
TOP