Home
> Audio Video Solutions & Integration
Technology Specialization
We employ cutting-edge technology to design customized solutions aligned to your requirements that deliver a superior audio-video experience.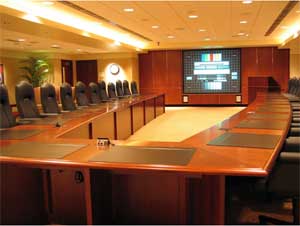 Conference Rooms / Board Rooms / Meeting Rooms
Our high-quality solutions offer crystal-clear clarity and minimal noise disturbance, ensuring glitch-free meetings. We offer:
Rear Projection Screen System
Table Interface Products
Multiple Laptop Presentation
DVD Recorder
DTH TV Control
Wireless Control System
Video Conferencing
Ceiling Speakers with Amplifier
Podium with AV Connectivity
Boundary Layer Microphones
Switchers
Mixers
Echo Cancellation Devices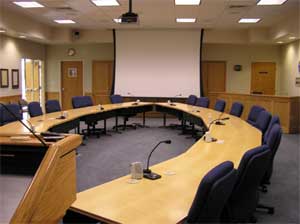 Auditoriums / Seminar Halls
Our solutions provide noise-free and high-resolution outputs to ensure maximum audience engagement. We specialize in:
100-inch Motorized Screen
3000 ANSI Lumens Projector
Crestron Wireless Touch Panel
Lights Dimming Control
DVD and DTH TV Control
Tabletop Speakers
Multiple Laptop Points
Gooseneck Mics with Push To Talk
Podium with Presentation Facility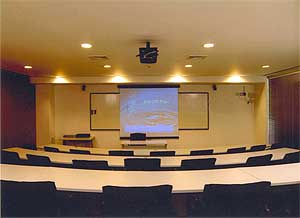 Training Rooms
We offer solutions that deliver ultra-clear and disturbance-free outputs to ensure uninterrupted and productive training sessions. Our offerings include:
100-inch Motorized Screen
3000 ANSI Lumens Projector
Crestron Wireless Touch Panel
Lights Dimming Control
DVD and DTH TV control
Wall Mounted Speakers
Multiple Laptop Points
Reception Areas / Visitors Lobby
Our cutting-edge AV solutions enhance your reception and lobby areas. We help you make a lasting impression on your guests and visitors, by keeping them informed, entertained and engaged while they wait.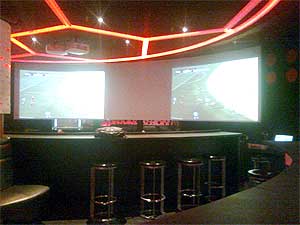 Entertainment Areas / Sports Bars
We leverage advanced technology to design customized audio-visual solutions that enhance the ambience of pubs, restaurants, malls, and other public areas. With our cutting-edge AV solutions, you can engage and entertain your patrons, ensuring a delightful experience.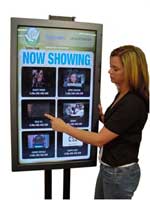 Outdoor Advertising
Our digital outdoor advertising solutions effectively communicate your brand message and ensure maximum brand recall for the visitors. We offer customized digital signage solutions, in line with your brand image, for both public and private locations including shops, restaurants, malls, hotel lobbies and parking areas.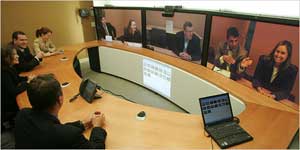 Tele-presence / Video Conferencing Rooms
Our tele-presence and video-conferencing solutions provide you excellent clarity, zero noise and lightning-fast connectivity. You can conduct productive business discussions, through seamless and unhindered communication.
Copyright © 2018 PCS Technology Ltd. All Rights Reserved.
TOP